When: 08/14/2019
QIC: Pyro
The Pax: Lil Wayne, Oz, Stye, II Fingers, Unicorn, WinthorpE, Haggis, McRib, Doorknob, Stick Built, Peepin' Tom, Faulkner, Cuddy, Harris Teeter, Bubble Guts, Morning, Tree Frog, Double Dipper, Little Dipper, Plan B, Pyro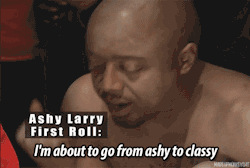 21 Pax joined for a humid dice-based beatdown.  Ashy Larry was a Chappelle Show character and integral participant in "The World Series of Dice" on the show. This was a dice-based workout, hence the barely tangential reference to Larry.
WARM-O-RAMA: Imperial Walkers IC x 10, Carrot Pickers IC x 10, mosey to knee wall for 20 Dips, 10 Box Jumps and Plank for the 6.
THE THANG:
Mosey to Garber Ministry Center parking lot for the first half of dice games. First dice had 10/20/30/60/90, used for reps. The 2nd dice had exercises:  LBCs (Crunches), SSHs (Jumping jacks), Squats (Squats), Merkins (Pushups), Lunges (Walking Lunges), and a Wild Card- Roller's choice.
At half-way, we took the long way to the Garber Parking lot (#2) where the 2nd half of Pax rolled some more.
We moseyed back to the knee wall for 20 Dips, 10 Box Jumps, Plank until the 6, then a 60-second plank.
MARY:
Mosey back to the start, circle up, Elevator Merkins courtesy of Oz and LSF IC x 14 before the ball of man and prayer.
Have a great day!
NEED a Q for Friday at the Point. Reply all if you cover it.  Pyro burnin' out!